More rumblings from some of the membership of the Monetary Policy Committee of the Bank of England – as reported by CityWire. The MPC is the committee which decides how well the national economy is doing and which recently approved the policy of Quantitative Easing (video explainer). This process invented £225Bn of new UK money (or credit) which was then used to buy government debt, much of which was undertaken to support the insolvent banks and financial institutions including HBOS and RBS.
QE in the UK started on March 5th 2009 and ended during February of 2010.
The following chart is a screenshot of the BBC twelve-month tracker for the value of the UK's currency –  pound sterling – measured against the US dollar and which covers these two dates. I have added them to the chart because I think there is an interesting connection of time and dates. Can you see a coincidence anywhere?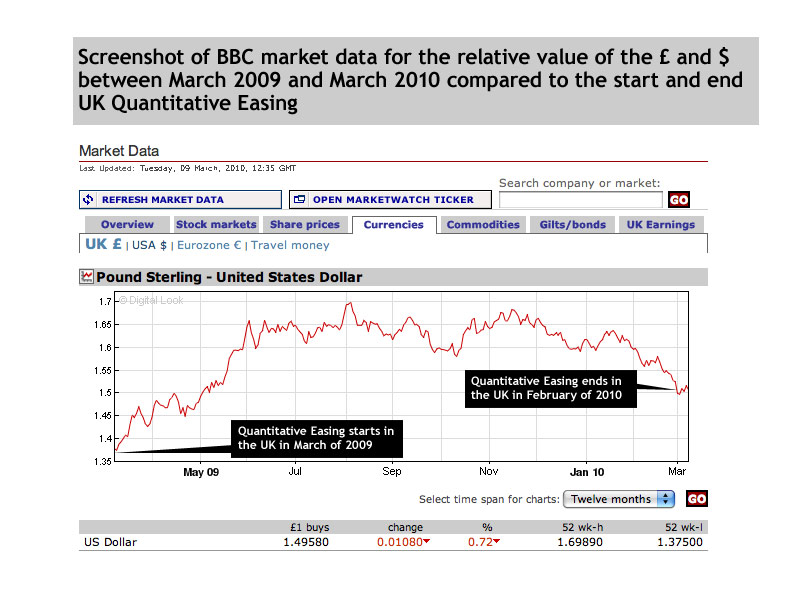 If you would like to learn about the invention of paper money or credit) with more than a few excellent jokes do watch this fine animated cartoon.
Updated: 9pm 9th March 2010. The BBC's Stephanie Flanders has a piece of analysis on the relative position of the UK after the disappointing balance of trade figures for Jan 2010. The 'recovery' seems to have stalled.