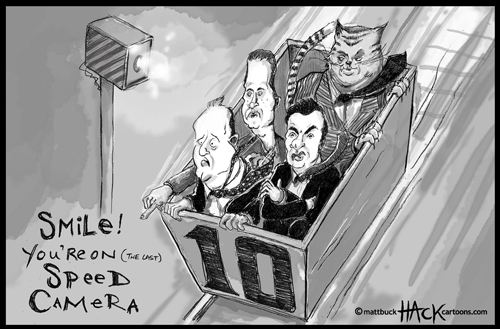 The arguments over the usefulness of speed cameras are eternal and reveal politics at its most truthful. It's all about what happens on your doorstep, or, on your local roads.
There are endless metaphorical speed cameras for politicians and the ones I look at tell me these four are speeding. Drawing © Matt Buck Hack cartoons : George Osborne, David Cameron, Nick Clegg and a fourth passenger.
Reading: Joseph Stiglitz in The Financial Times (registration may be required).
Reading: Reports of former Chancellor Alastair Darling's speech at the Donald Dewar Lecture this week
Reading: Bank of England August report on interest rates and the failure to keep inflation inside the target range. The exchange of letters between Chancellor George Osborne and Governor Mervyn King are, at least to me, hilarious. It's something about the perceived need for public performance I expect.